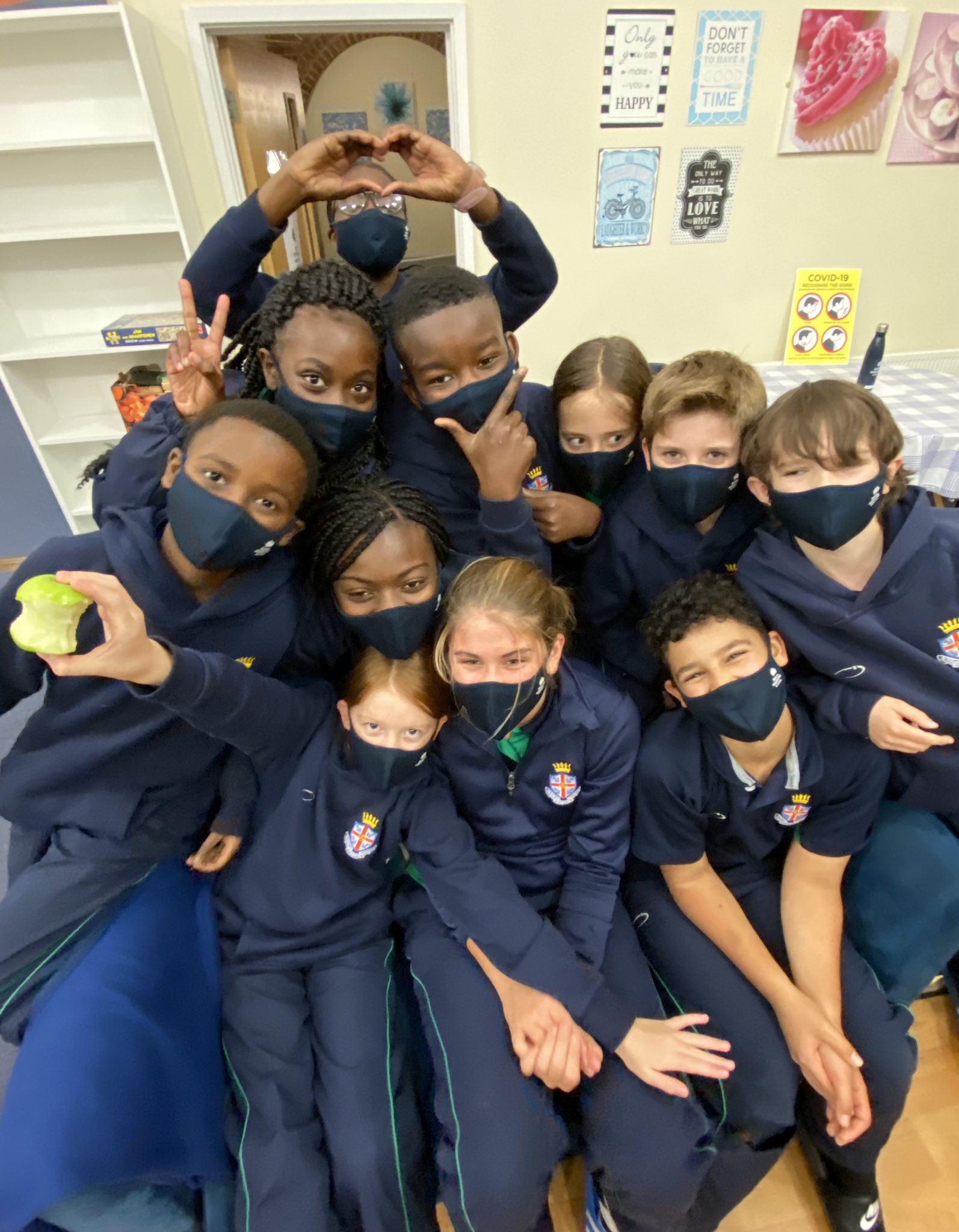 RHS and the pandemic: navigating the new normal
Looking back at the events of 2020, we at RHS are immensely proud of the way in which our School pulled together to overcome the difficulties posed by the coronavirus pandemic and resulting lockdown. Not only did our pupils only miss one single day of lessons, but our sense of fellowship was as strong as ever, despite the many miles between us. What's more, the choices made by our staff, pupils, parents and alumni brought help and support to the wider school community and beyond at an incredibly challenging time.
This is our story...
The true measure of any individual, business, community or institution isn't really seen when things are ticking along nicely under normal circumstances, but when adversity presents itself without warning. And it can certainly be said that this year has brought unprecedented challenges to everyone.
During the early weeks and months of the coronavirus pandemic, we all had to adapt to new ways of studying, working, socialising and navigating the essentials of daily life (with even basic groceries proving hard to find) – not to mention managing health worries about a relatively unknown virus. Against this crisis-level backdrop, we saw the best of people come to the fore.
Businesses and other organisations rose to the unparalleled challenge, driven by individuals determined to make a difference. Across the board, success came down to effective emergency planning, a willingness to embrace technology, and an ability to pivot activities in order to survive in the new normal. In fact, organisations which managed to nail these three elements, and consider how they could solve the problems of their market or community, not only thrived but helped ease the challenges posed by lockdown, bringing comfort to the people involved.
Continuity of education: current wellbeing, future success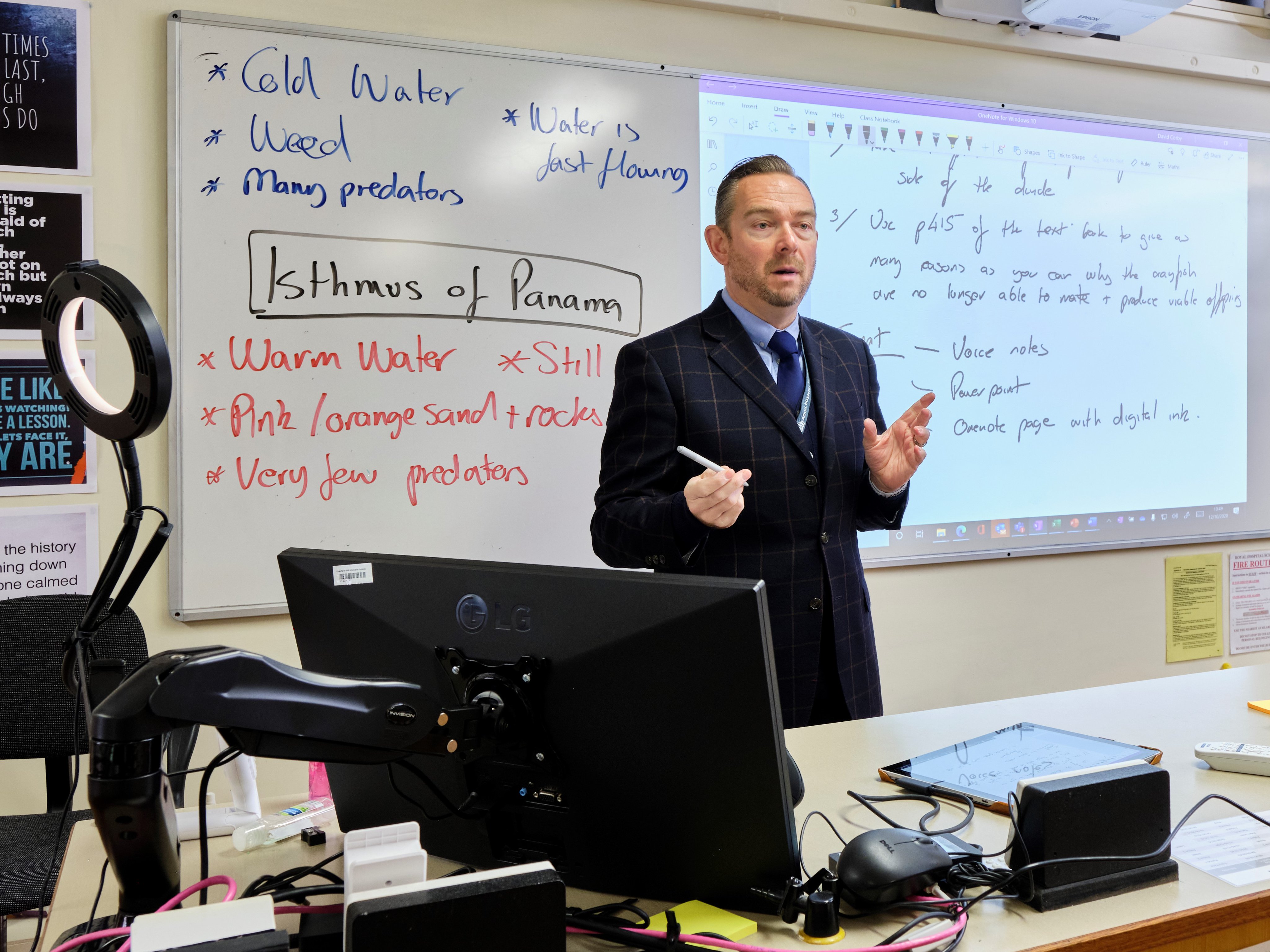 Across the school sector, the same dedication and innovation could be seen – and rightly so. Continuity of education is imperative. Not only do pupils' futures hinge on their achievements at school, but their daily school routine (including social time with their classmates) has a significant positive impact on their wellbeing. But how could teachers and education leaders ensure that the curriculum could be taught effectively, while protecting the physical and mental health of staff and students? The government's decision to close schools in mid-March took care of the risk of coronavirus transmission within education settings, but left a more significant challenge in terms of teaching, and of how to maintain pupil wellbeing – through a sense of community, and also pastoral support – during the isolation of lockdown.

As a leading boarding school in the independent sector, the Royal Hospital School was already ahead of the curve when it came to three things: technology, breadth of education, and community.
We are an Edtech Top 50 school and an Apple Regional Training Centre, so we already had an innovative, technology-rich learning environment in daily use; our pupils were comfortable with the use of cutting-edge mobile technology, as they were already integrated into the delivery of our well-rounded and values-led education.
Importantly, we already had a strong sense of community prior to lockdown. "This is in no small part due to the fact our culture champions an individual's ability to actively fulfil their potential while participating as a conscientious member of society," explains Simon Lockyer, Headmaster. "As a result, members of our School community were already engaged, proactive, plus they all knew the value and importance of altruism, before the disruption of COVID hit."
Additionally, we had all the right basic emergency planning in place – and quickly assimilated situation-specific measures – to pivot to remote learning and ensure continuity of education for our pupils, without hiatus.
Technology for learning: knowledge, skills, and communication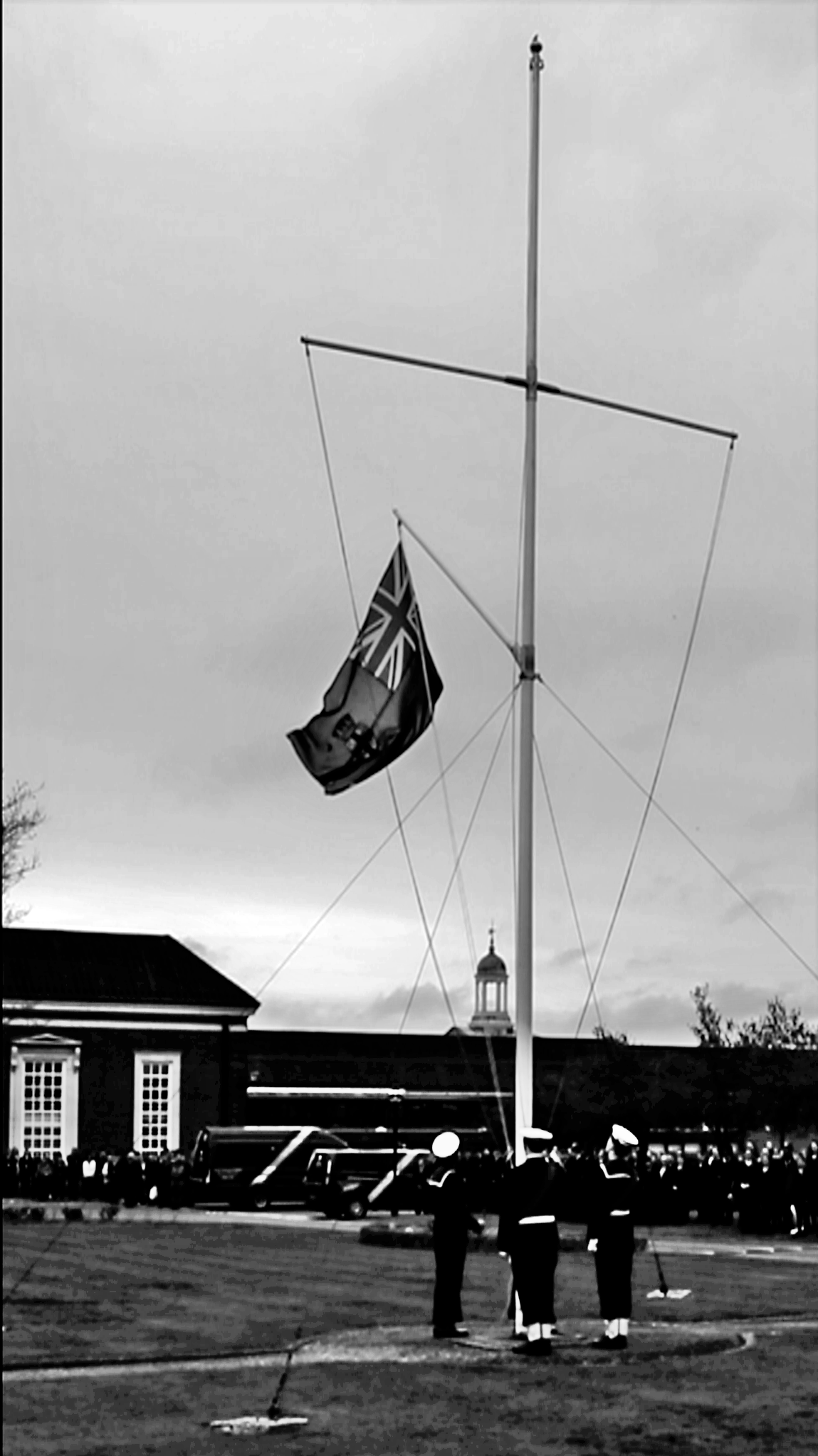 We lowered the Royal Hospital School ensign at 4:30pm on Friday 20th March and closed our doors to pupils, as mandated by the government, and began our remote learning programme at 8:55am on Monday 23rd March – teaching 28 subjects to 750 pupils in 38 countries around the globe. No mean feat, certainly, but with cloud technology already integrated into our standard daily lessons, and with every pupil having the use of their own iPad as a matter of course, the transition to online teaching and learning felt remarkably smooth.
Unsurprisingly, our Information Systems department was at the centre of the switch to 100% digital lesson delivery – but it took full buy-in across the staff, in every department, from the leadership team to our learning support assistants, to make it happen. Lesson planning, whiteboard presentations, class discussions, independent learning, and prep submission and marking all had to be facilitated within a digital space. Lessons needed to be recordable, too, so that pupils in different time zones could access the material during their own daytime hours.
"It wasn't a reactive process, but more of an acceleration of the innovation we had already started planning," explains Alex Davison, Head of Information Systems. "We were exploring Microsoft Teams and OneNote before COVID-19, and had recently introduced a cloud-based system in School. We considered other options, but quickly ascertained that these tools would meet the needs of our teachers and students, plus there was the bonus of existing familiarity with Microsoft products, owing to many of our community using MS Office in their day to day work."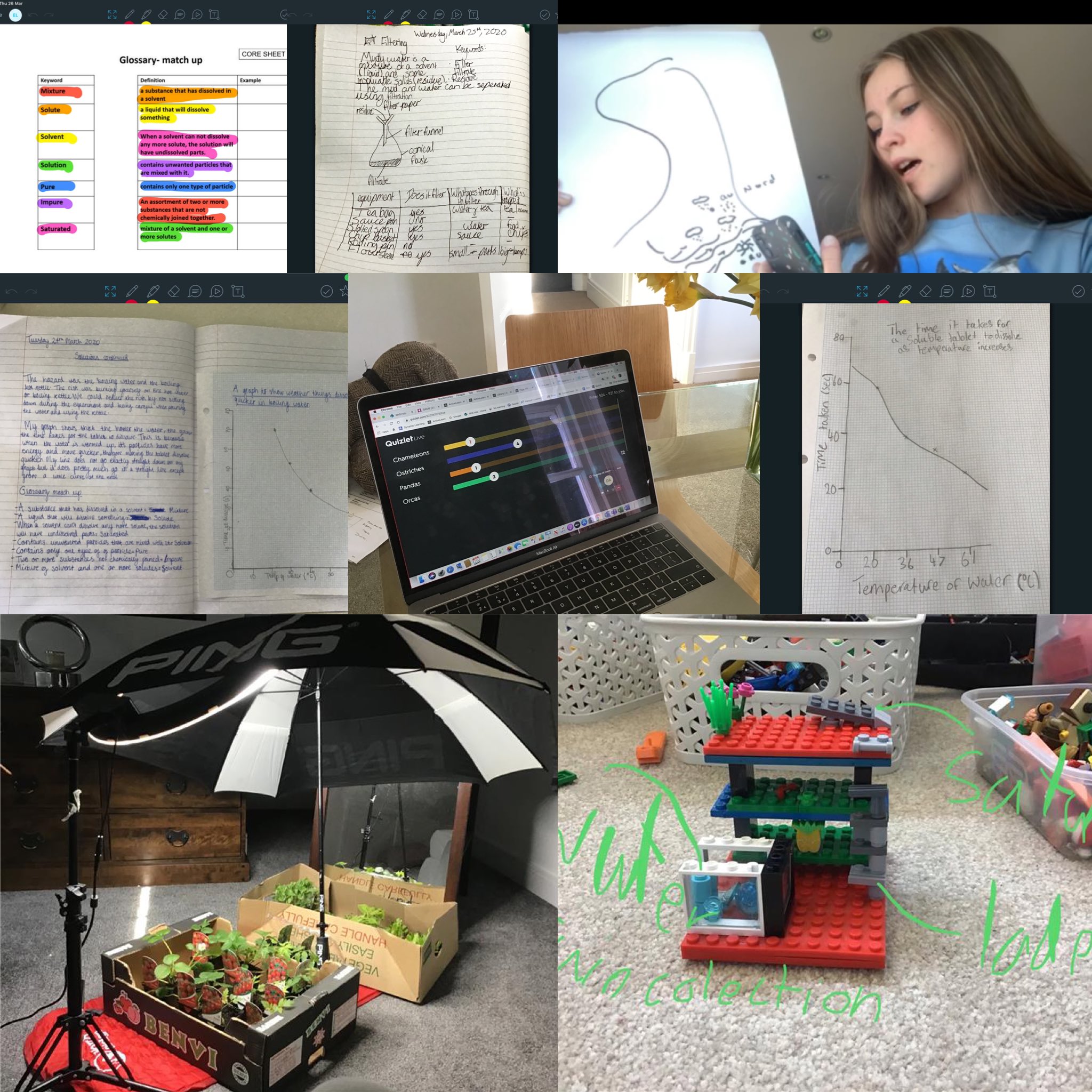 These user-friendly applications were partly chosen for their ease of use, but Alex and his team weren't leaving anything to chance, and arranged three training days for staff, with mop-up sessions scheduled for anybody who had further questions or needed additional support. Additionally, a chat room was set up where staff could post live issues, and have them dealt with immediately by tech support, so that lessons would not be held up by technical problems.
"Being forced to adapt so quickly to ensure continuity of education has pushed us forward almost two years in terms of our plans to adopt new technology," adds Alex. "And we're not only using technology to make sure our learners can continue their education without interruption, they're assimilating cutting-edge digital skills at the same time – which are essential for anybody looking to make their mark in the modern world."
Creative teaching: engaging learners of all ages
With the technological framework in place for the delivery of lessons, it was over to the teaching staff to work their magic and create engaging, informative lessons that were just challenging enough to stretch students' minds and encourage their best work. They did us proud.
Miss Shopova, in our Modern Foreign Languages department, got her Year 7s moving by reading a list of things one by one (in Spanish), and having the class dash around their homes to find the right objects. Mr Eales engaged younger pupils in some maths lessons by using Minecraft to demonstrate concepts such as gradients – he was ably aided in his lesson planning by his son Sean (Year 9), whose superior Minecraft knowledge came in very handy. Mr Corby, teacher of physics and biology, tweaked his remote teaching set-up after receiving feedback from a Year 12 pupil, and began to live-stream himself teaching (speaking to camera in the most animated way as possible, and writing on the whiteboard with a thicker marker for visibility). 'Corbcasting House' was so well received by students that other teachers quickly adopted the same methods.
To cater for the specific needs of our international students, our English as an Additional Language department also made some adjustments to their teaching schedule and remote learning methods. Rearranging class timetables to suit a wide variety of time zones – from China to Mexico – saw staff teaching from as early as 5:30am, and up until 9pm on some days, while they also used WeChat to communicate with students in parts of China who couldn't access Microsoft Teams.
There were many other tales of our School community's inventive approaches to keeping minds enquiring and bodies active, too, from pre-A-Level tasters and optional courses for Year 11s, which replaced study leave (options included astronomy, coding, Russian and cookery, amongst others), to Mr Weaver's self-set physical challenge. He decided to do his usual 14-mile commute to RHS every morning before classes began – only he did it on a racing bike trainer in his conservatory, rather than taking his usual route!
Our Year 11s also benefited from a programme designed to develop their creativity and emotional intelligence – The Quarantine Zone. This pandemic-focused series of activities included challenges from creating an original meal from a set of ingredients, designed to feed a family during lockdown, to an Apprentice-style task which saw pupils plan the development and marketing of a product which met particular needs created by lockdown.
Student support: underpinning education
Unsurprisingly, as a leading boarding school, RHS has particularly well-honed support systems in place for students, extending well beyond the academic. In these stressful times, with the big changes brought about by the switch to remote learning (including significant uncertainty for those due to sit exams in summer 2020), and the difficulties of having to remain isolated from friends and family, as well as concerns about the virus itself, this pastoral care was never more important.
Staff stepped up efforts to support pupils' mental health during lockdown. A two-pronged approach was employed: engaging pupils on topics that supported their physical and mental health, and fostering a sense of togetherness through fun initiatives.
Social media became a key space in which the fellowship of the RHS community was fostered, not just on an individual level with friends keeping in touch and sharing their experiences of lockdown life, but also in a way that brought pupils together in their house and year groups, and as a school. The hashtag #PartofRHS, designed to bring the community together, was widely used, and helped RHS become one of the most followed UK schools on social media.
Several teachers stepped up to the mark to show that they could beat TV presenters at their own game, and we saw a raft of interesting, useful, and funny videos uploaded to the School's social accounts for the whole School community to enjoy. We had Strictly RHS (with the Corbys demonstrating their elegant moves, and demystifying some of the secrets of dance), The Great RHS Bake Off (where Mrs Hitchen demonstrated that she could give this year's official contestants a run for their money, and encouraged students to have a go at baking their own creations), while Mrs Skau started lockdown presenting an amusing take on the RHS Holbrook Flower Show, before moving on to bring her inimitable approach to RHS Gardener's World.
One series which proved particularly popular with alumni and existing pupils alike was Second Master's Secrets, in which Mr Dixon explored some lesser known (and out of bounds!) areas of the School's historic campus, including the clock tower, the tunnels underneath the buildings, the staff social club (The Shed), and even the top of the water tower!
Engendering a sense of community: #Part of RHS
Encouraging the RHS community to actively join in, we saw Mr Raybould engage his classes with RHS Springwatch (with pupils sending him videos and images for a montage video to be created), Mr Hodson presented his 'Top 5 Books for Lockdown' and asked pupils to share their favourite titles, while Miss King created her King for the Day series of montages, on themes ranging from 'coffee and cake' and 'your favourite book' (both self-explanatory!) to 'go green' and 'you in yellow' (which involved students sending in pictures of themselves in clothing of a certain colour). The regular 'pick a hymn' and 'House of the week' posts received great responses, plus pupils joined in wholeheartedly with the 'RHS at home' theme, sharing pictures of their homeschool set-ups from around the world.
There were also a number of amusing and entertaining one-off posts – who could forget the 'Mr Johnson's Jackets' personality test? Or the Collingwood lunchtime roll call, featuring 80 Collingwood House staff and students, past and present? We were also treated to insights into what various pupils were achieving during lockdown – including Helena's (Year 12) amazing RHS clock tower cake, Harry's (Year 13) self-published photographic guide to the East Anglian coast, Ellie's (Year 12) participation in the Model United Nations Impact Global Summit 2020, and Thea's (Year 13) very practical introduction to her new field of study, while staying on her uncle's farm during lockdown – she's since started a degree in Veterinary Medicine at the University of Nottingham.
On a more serious note, videos aimed at ensuring pupils' wellbeing were created and posted online. The Chaplain's weekly broadcasts did much to bolster spirits, while a different approach to finding a sense of calm was demonstrated by Fin (Year 13), with his short series on meditation techniques. In addition, Sister Sweeney recorded a host of invaluable videos to explain the importance of routine, exercise, good sleep, healthy eating, and social interaction.

As well as the morale-boosting effect of the staff's social media exploits, the School also took a more formal, substantial approach to supporting students during lockdown, and on their return to the classroom in September. "We trained 25 teachers and 13 pastoral and support staff in Mental Health First Aid, with the aim of empowering them to notice signs of mental ill health, and encourage them to break down barriers, listen in a non-judgemental way, and signpost vulnerable young people towards professional support either at school or from home," explains Zoe King, Deputy Head (Pastoral)."This is one the largest number of staff to be trained in this way in any school in the country. With 500 full boarders, some of whom are a long distance from home, we felt that this extra layer of support and awareness would be vital not just during lockdown conditions, but also when the School community returned to Holbrook."
Great expectations: keeping to the plan in the face of adversity
Intent on making sure the 'new normal' of lockdown did not derail pupils' sense of their own achievements at RHS, as well as their part in the wider School community and society at large, we maintained as many diary dates as we could, reinventing activities to comply with the restrictions placed upon us.
School traditions were upheld wherever possible – after all, our pupils and alumni tell us that these are what sets our School apart from the crowd, and that such shared experiences also really make them feel part of the unique community of RHS. As well as the broadcasting of a chosen hymn on Saturdays as a sort of virtual congo (congregational practice), with Mr Allen playing the chapel organ so the whole RHS community could enjoy that well-loved Holbrook Sound, we did a virtual Flag every Friday, live-streamed on social media – with some pupils choosing to join in by bugling at home.
Weekly assemblies were live-streamed, covering themes relevant to resilience, and designed to engender a continued sense of belonging as 'part of RHS'. In addition to the weekly Headmaster's address, pupils contributed, too, with topics ranging from mindfulness to the Black Lives Matter movement.
Various alumni also got involved in supporting and inspiring the current cohort of pupils, filming individual messages to be played as part of the virtual assembly. Jon Young AKA Jon Courtney (Blake, 1991), comedian and musician – soon-to-be winner of ITV's Britain's Got Talent – explained how singing in the choir, acting in school plays, and practising piano every standeasy (not to mention learning resilience and self-motivation) at RHS helped him build a path to his big break. Lucy Knowles-Vollentine (Cornwallis, 1993), formerly a Royal Navy Captain and now working for the British Red Cross shared a message about resilience and adding value to the world; Tom Woolf (Hawke, 1995), CEO of EdAid sent a strong motivational message; while Brandon Hylton (Collingwood, 2018), serving with the Metropolitan Police, spoke of the opportunities that RHS had opened up for him.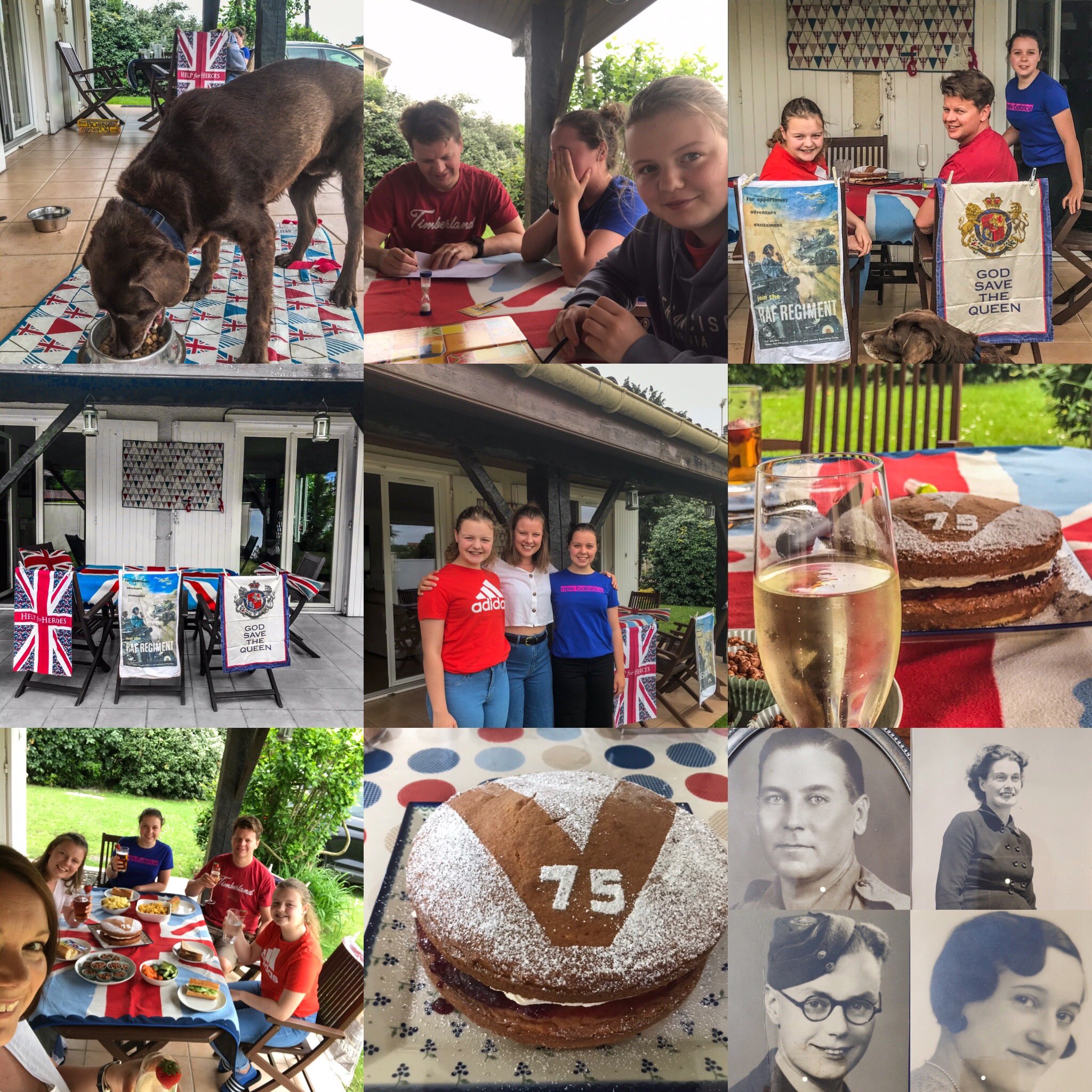 As part of our VE Day 75 assembly, Robert Green (Collingwood, 1946) shared with us his memories of being at RHS when the announcement was made on 7th May 1945 that the war in Europe was finally over – and also performed them a little rhyme from his Collingwood days, that still stuck in his mind! Of course, we also marked the occasion of VE Day with a variety of other pandemic-appropriate activities, from socially distanced picnics in our own back gardens (with Mrs Hitchen's Bake Off inspiring lots of goodies, if the pictures shared on social media are anything to go by) to a virtual pub quiz at the RHS Victory Arms. We also gathered memories and images from our alumni to share real-life experiences amongst the generations, and lit the clocktower red for the evening – a solemn tribute to those who did not return.
How to celebrate: socially-distanced, and digitally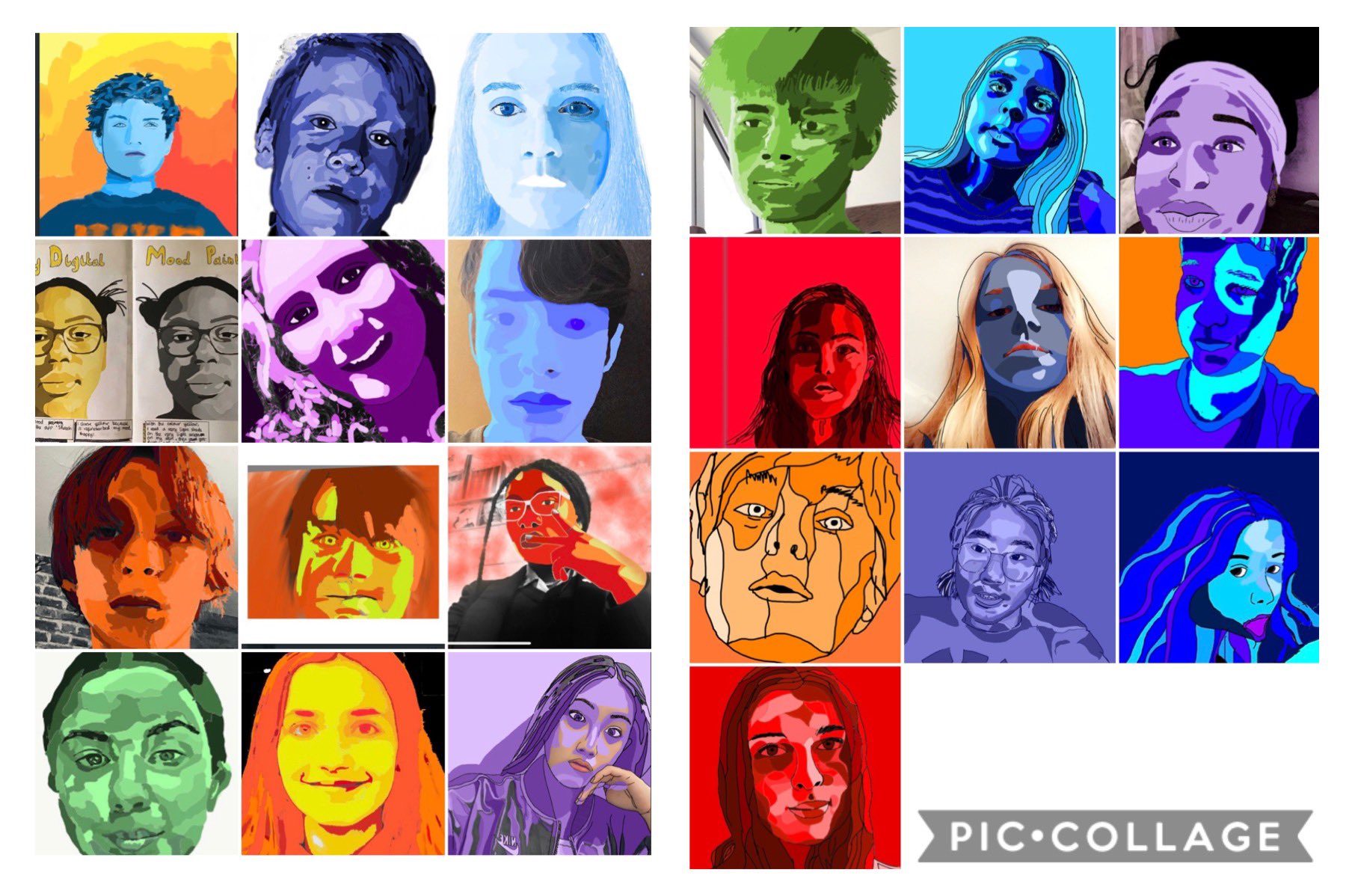 With certain key events of the academic year unavoidably cancelled – namely exams, Speech Day and leavers' celebrations – we did all we could to ensure that pupils didn't feel they were missing out on these defining moments, and the celebratory spirit of the end of term could be captured as fully as possible.
The art, photography and textiles end-of-year shows by A level and GCSE students were of course unable to go ahead, so Head of Art Mrs Barber decided to create a virtual gallery. It took over 20 hours to photograph more than 200 pieces of work, and then upload the images, but this dedication was rewarded with resounding success – more than a thousand visitors clicked through to the galleries in the first weekend alone. "Our GCSE and A level students have worked so hard these past two years to produce an impressive body of work, I did not want COVID-19 to rob them of their chance to shine," she explains. "RHS has its own fantastic exhibition space, the Atrium Gallery, where pupil's work would normally be put on show at the end of the year, with family and friends invited to come along. We normally expect between 40 and 50 visitors, so we are overwhelmed by the response to our 3D gallery."
On the day before Speech Day, we were lucky enough to have an exclusive live-streamed concert, The Eve of Speech Day Show, played by the soon-to-be Britain's Got Talent winner Jon Courtenay – ending with a specially written song which recounted a few of his memories of being a pupil at RHS in the 1980s and '90s (he's definitely still a little bitter that girls only joined the School the year after he left!), and entreated the Class of 2020 to grab with both hands all opportunities to make the world a better place. 'The Leavers' Song' certainly ended with a sentiment that was recognisable to all, as it has been true for our leavers throughout the School's history: an RHS education truly is a foundation for life. With the celebratory tone set by Jon's concert, the following day our virtual Speech Day commended the achievements of all our pupils in the time-honoured fashion – simply in a digital space, from our own homes, rather than a marquee on the School's grounds..
Not just on campus: how RHS made a difference to the wider community
We're also proud to report that pupils and staff were not just making sure they were continuing their studies with 'RHS at home', but they extended the #PartofRHS ethos to assisting their local communities and wider social networks where possible. Proud, but not surprised – creativity, adaptability, resilience and altruism are all nurtured at RHS; our aim is to provide an education in the fullest sense, including positive personal values and community-orientated thinking.
One of the initiatives we're most proud of is 'Letters Home', which connected our current pupils with elderly alumni who might be feeling very isolated during the pandemic. Re-imagining the tradition of handwritten letters passing between boarders and their families, Letters Home reached out to 660 Old Boys, and opened a channel of communication that enabled the older generation of alumni to connect with their past, and current pupils to learn about the history of the School from those who went before them.
One former pupil, Ray Poingdestre (Drake, 1936), even 'went back to school', joining an MS Teams Compass class (a programme designed to promote skills such as enthusiasm and curiosity, and engender an understanding of good citizenship). Interviewed by David (Year 8), who had originally written Ray's 'letter home', Ray shared his memories of a markedly different type of RHS education with the class, telling tales of rigging climbing and seamanship classes – because in his day, the focus of the School at that time was to prepare boys for a life at sea.
Another particularly fine example of outreach was Devon's (Year 7) spectacular cake making exploits, which brought joy to School support staff and to the residents of Oak House Care Home in Stutton (where he previously volunteered on Fridays) – we hope he does apply for Junior Bake Off, he will go far! Also, music was another creative pursuit that brought together RHS and the local community, with members of the Holbrook Choral Society and the Chapel Choir banding together to record an incredible Lockdown Gloria, complete with multi-screen video editing (you can find it on YouTube). Similarly, to celebrate Her Majesty's birthday on 21st April, Mr Allen, Head of Academic Music, recorded the backing track to God Save The Queen on the Chapel Organ, and sent it around the globe for everyone to record their contribution, whether vocal or instrumental. Almost 60 of the RHS community took part, and the sound was incredible.
Our on-site community did us proud with their Clap for Carers efforts (plus we lit the clock tower blue to celebrate the 72nd anniversary of the NHS, and to recognise the dedication of nurses and midwives), while our Design & Technology department got behind the NHS in a more practical way, making PPE. Mr Millington, Mr and Mrs Maloney, and Mr Ling turned out hundreds of face visors to be distributed to frontline staff, as well as scrubs bags to ensure that NHS staff could control the risks of their post-shift laundry. Their efforts were joined by alumni, too, with Zac (Hawke, 2019) and Olivia (Anson, 2019) Frankham – with help from mum Aimee (Cornwallis, 1995) – who ran up scrubs, laundry bags and head bands to support their local NHS workers. Over in Martlesham, Emma Tarling (Howe, 2004) – Innovation Consultant at BT Technology – joined forces with her Adastral Park research partners to make 3,000 visors a week.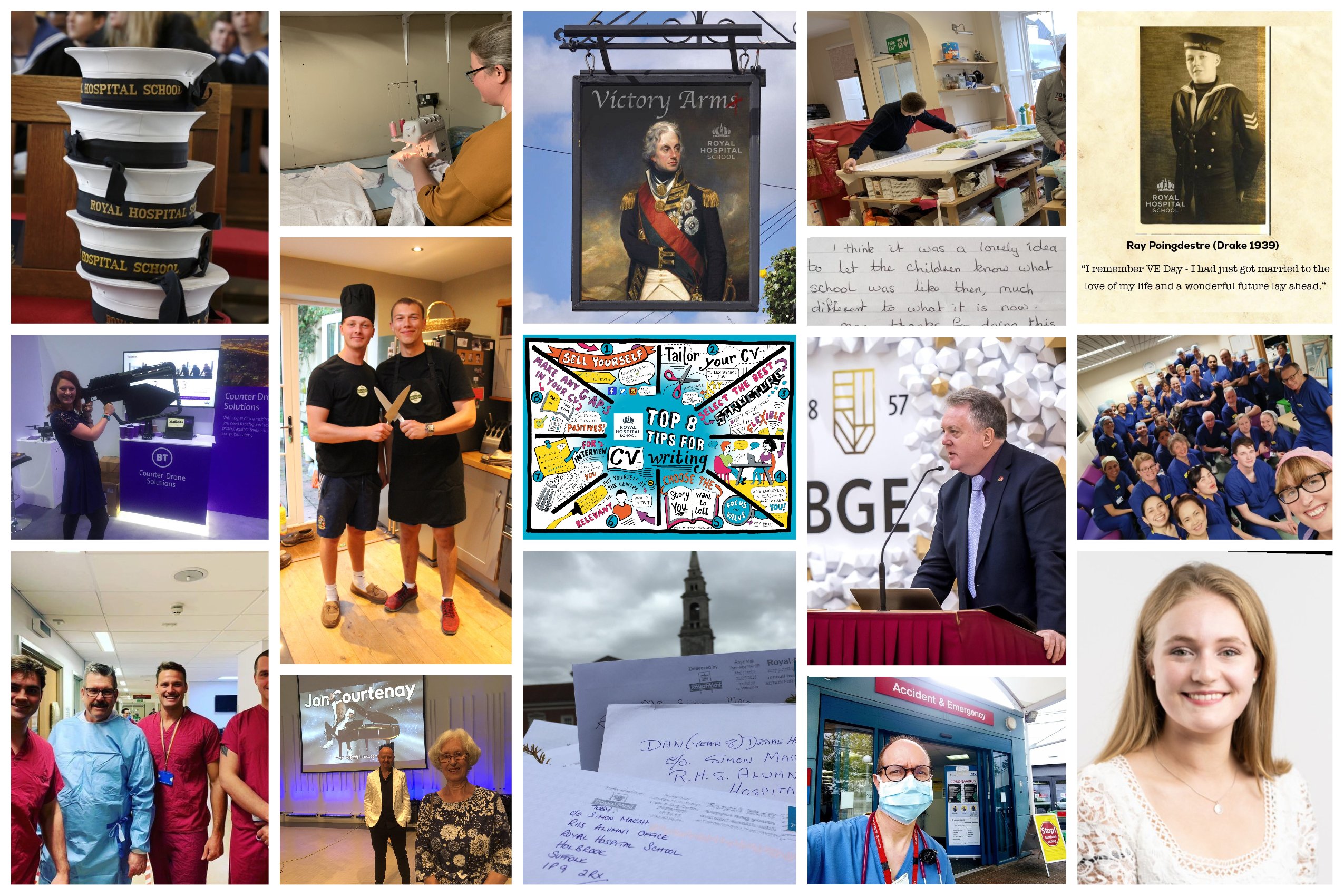 And that's just a couple of examples of how the wider RHS community was active in making a difference during the first wave of the coronavirus pandemic, there were many, many more than we could possibly list here, but we'll scratch the surface with a few. Bob Clarke (Raleigh, 1968) found himself in demand to help businesses adapt and survive, when his 2016 book on business continuity and the pandemic threat suddenly became immediately relevant. Neil Williams (Drake, 1988) worked as an intensive care nurse on the front line for Greenwich and Lewisham NHS Trust (though he also found time to record one of our special alumni assembly messages for our students), while the Beatons – Cameron (Collingwood, 2011), Monty (Collingwood, 2012) and Angus (Collingwood, 2013), with dad Kevin (Collingwood, 1979) – were to be found working on the wards at the Mid Essex Hospital Trust. Consultant anaesthetist Richard Cantelo (Collingwood, 1981) was also on the front line, while Professor Alan Thornhill (Hawke, 1986) mobilised his testing lab.
Andrew Shepherd (Anson, 1997) spearheaded a project to create additional intensive care beds at Newham University Hospital, in his role as CEO of Mid Group, while Dr Iain Wood (Hawke, 1998), Naval Principal Medical Officer, was in charge of safeguarding the health of the NATO community in Naples when the virus reached the area in February. Tony Nicholson (Drake, 2004), who is a well-known fitness personality in China (and beyond), was instrumental in his community's fight against COVID-19.
Though not at the sharp end of the fight against COVID, many alumni did what they could to adapt their businesses and, importantly, support the needs of their local communities – with some managing both in one fell swoop. George Davies (Collingwood, 2016) and Harvey Sellers (Collingwood, 2016) set up a pasta dish delivery service to fill the gap in restaurant-quality takeaways in their part of Suffolk. Fundraising efforts were also in evidence, with the RHSA's NHS rugby shirt donations, and Issy Williams' (Hood, 2016) sale of hand-drawn calligraphy pieces to raise funds for cancer treatment cancelled by the NHS due to the coronavirus pandemic.
Waiting with baited breath: exam results success
We have been awe-struck by our staff, alumni and pupils' inspirational responses in a time of crisis, but we are perhaps even more proud of those of our number who had the extra worry of having their GCSE, A level and BTEC exams cancelled, yet still remained resilient, positive and proactive. With information on how grades were to be decided initially sketchy, confusing and misleading, our year 11s, 12s and 13s endured a hugely unsettling time with good grace, and adapted as well an anybody could have possibly asked them to.
In the end, A level results day continued an upward trend of improved A level grades at RHS, and for the most part reflected student expectations. We had an 87% A-C pass rate, with 31.4% A*-A grades – an impressive 23 pupils achieved points equivalent to three A grades – while 80% of our BTEC pupils achieved at least one Distinction. "The overall grades that the School has achieved are in line with what we expected for this cohort should examinations have taken place as normal, making them some of our strongest results on record," explains Catherine Stevens, Deputy Head (Academic). "This reflects the ability and the strong work ethic of this cohort, and I am extremely pleased that the hard work of our staff to continue the academic trajectory of the school has not been diminished."
GCSE results were similarly heartening, with a 96.4% 9-4 pass rate (A*-C equivalent), which represented a year on year improvement for the School, and a 45.4 9-7 pass rate (A*/A grade equivalent). An incredible 41 pupils achieved a least six 9-7 grades, and 16 were awarded a 9-7 in every subject taken. "We had high expectations for this year's GCSE cohort based on their accomplishments over the past two years and their continued hard work right up until the day that it was announced that examinations would not take place," says Catherine Stevens. "The Centre Assessed Grades they were awarded are an honest and rigorous assessment of individual performance and I would like to congratulate the whole year group on a set of results that they should be proud of, despite all the uncertainty."
Naturally, with frustration and anxiety being part of the mix for some, who had perhaps been looking forward to proving their ability under exam conditions, it was imperative that we provided the highest level of support to all students whether they had just received GCSE, A level or BTEC results. Helping them understand the context of their grades, and assisting them in choosing their next step was key to ensuring that every individual could navigate their own success, and fulfil their potential.
Going forward: education as a foundation for life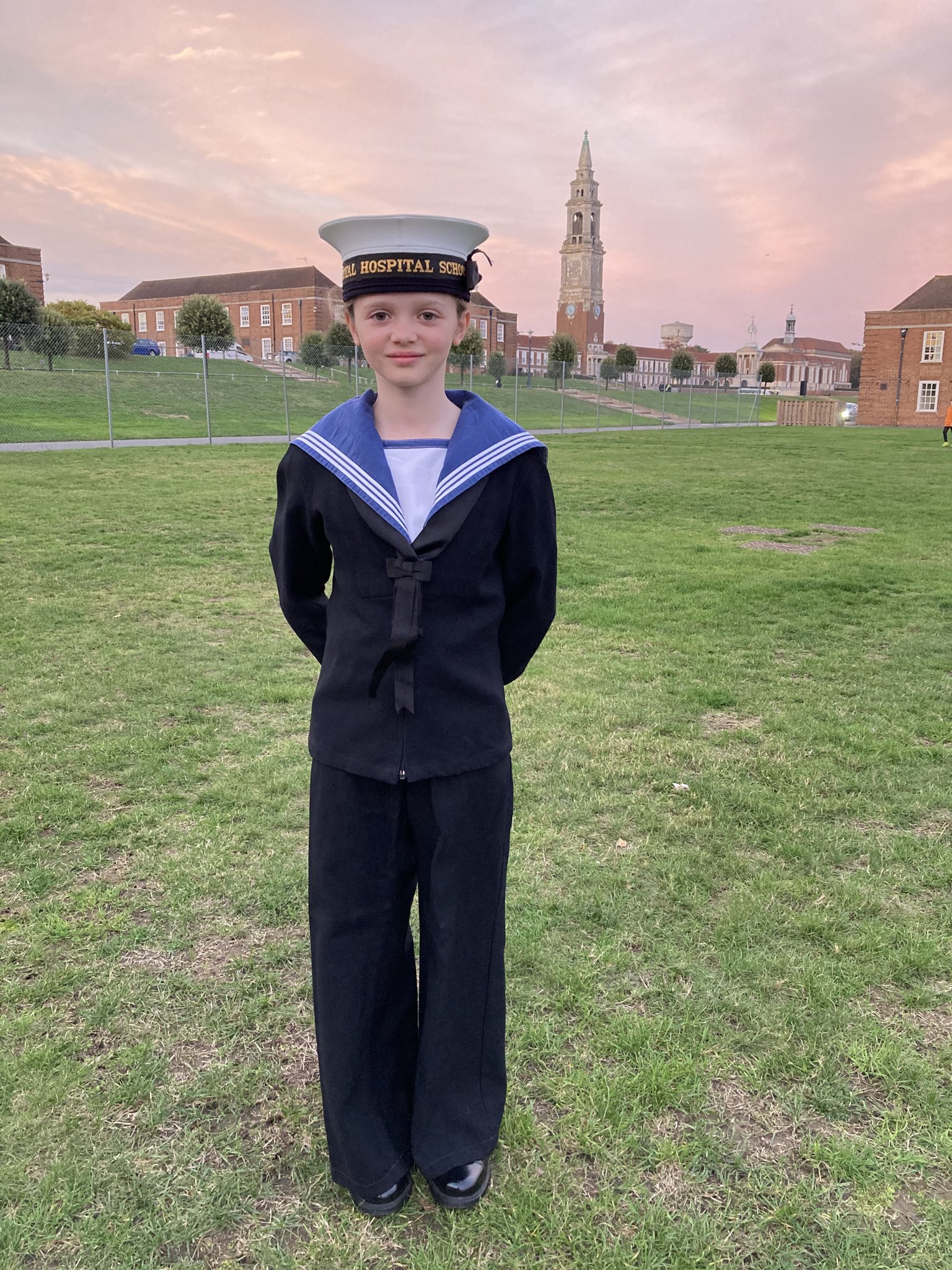 With the new academic year approaching, robust COVID-19 health and safety measures were planned and implemented, to reduce risk for the whole school community. Whilst we were quick to adapt and adopt remote teaching and learning, the return to the classroom in September has come as a real relief. Teachers faced a huge challenge during online delivery of lessons, not least because they were unable to spot the tell-tale visual signs that a pupil does not fully grasp something, when this would be clearly evident in a classroom, which would be a cue to intervene with additional explanation and support. For pupils, it is a return to an environment that they associate with learning. Bedrooms, kitchens and living room tables are no substitute for the classroom ecosystem.
"We have tried establish as much normality as we possibly can, whilst being safe and trying to minimise the risk of transmission. Academically we have made changes to the timetabling to reduce movement around the school site, but otherwise we are delivering our curriculum as normal," says Simon Lockyer, Headmaster. "On the back of our experiences with remote teaching, each member of staff has been provided with a Microsoft Surface device and undergone training on OneNote and on approaches to dual teaching – which is teaching to pupils who are physically present at the same time as those accessing the lesson remotely. When a pupil is absent because they are self-isolating, in quarantine or unwell, they can access the lesson remotely. This technology ensures that a pupil working remotely can see the teacher, white board, textbooks and tasks, and is able to ask questions within the live lesson being delivered. This is as close as we can get them to being in the room with their teacher."
We have also enhanced our pastoral care system at School to include daily tutor meetings, which aid communication and provide a regular support touchpoint. Should another school closure occur, this measure will remain in place, albeit remotely. This daily interaction allows staff to focus on the individuals in their small tutor group, and provides early intervention and regular communication to ensure the wellbeing of every pupil.
Additionally, we felt it important to maintain the rich, diverse offering of co-curricular activities for which RHS is so famous. "We want pupils to feel that their wider education and experiences have not been put on hold. We launched the term with a new approach to running activities to enable pupils to get involved, we have broadened the offering for games and sports, and we have tried to establish some of the regular features of the school term such as Divisions. We are delighted to be able to offer our pupils over 100 co-curricular activities, all run within the government guidance. All of these offerings provide the essential enrichment that enables our pupils to fulfil their potential in the broadest sense possible."
We are confident that we have the right plans in place to safeguard the quality of our famously well-rounded RHS education. The possibility of further disruption to our School by the pandemic is an unknown quantity, but whatever lies ahead, we are doing all we can to adapt and innovate, to ensure continuity of education for all our students.
Want to become #PartofRHS?
More here: